It's never been easier to travel from Sydney to Bathurst via public transport.
Travelling by train is more economical, more environmentally friendly, and requires less focus. Just grab your favourite book and sit back to enjoy the scenery.
Once you've arrived, the Bathurst CBD is compact and easily walkable from the train station, with many accommodation options and attractions close by, plus the local bus service is great for getting around town. Or bring your bicycle and explore on two wheels.
Print or bookmark this itinerary to make the most of your rail journey to Bathurst for an extended weekend.
Friday
Knock off work a bit early and head to Central Station. The direct service to Bathurst leaves at 3:05 pm from Platform 1. No bookings required, just tap on with your Opal Card. The trip costs $9.35 for a full adult fare each way.
Working or departing from the West? This service also stops at Paramatta (3:26 pm) and Penrith (3:54 pm).
Arrive in Bathurst at 6:47 pm. The perfect time to settle into your accommodation before heading out to find dinner at one of our many fabulous local restaurants lining Keppel Street from the train station.
Stay
You're here for 3 nights, so why not stay somewhere that feels like a home away from home? There are wonderful accommodation options along Keppel Street within easy walking distance from Bathurst Station to suit a range of budgets. Our top suggestions are Lachlan Terrace, a stylish inner-CBD terrace that is fully self contained with three bedrooms, perfect for families or travelling groups of friends, or a luxurious stay for couples.
Or The Victoria Bathurst. Directly opposite the station, this heritage hotel has had a serious glow-up. Both the downstairs bar and upstairs rooms were completely refurbished in 2019, and are warm and welcoming. The pub is proudly pokie free, and champions local live music and arts. Stay in a standalone room with shared bathroom that is perfectly clean, comfortable, stylish and affordable. Or choose one of their ensuite rooms for added privacy.
Eat
Once you are settled, head out to find some dinner. On Keppel Street you can find pub-style food with a delicious difference and catering to all dietaries at The Victoria Bathurst. Or casual fine dining at Vine and Tap, serving modern Italian share plates accompanied by local and imported wines, beers and creative cocktails. Or delicious smoked meats, wings, burgers and Southern-American style sides at Dogwood BX. Stroll back to your cozy accommodation to tuck in for the night.
Rise and shine, but first, coffee and a bite for breakky. Take your pick along Keppel Street, there's Al Dente, The Hub, Moubar Vintage x Bootleg Bakery, Carah's Bakery, Doppio Espresso or The Crows Nest Cafe. All unique and well loved by locals and visitors alike.
Saturday
Take a wander through Bathurst's historic streets adorned with red bricks, wrought iron, and beautifully preserved period features from Victorian to Federation and beyond. These historic buildings often house gorgeous shops for a spot of retail therapy on your way around. Call in at Dejorja Boutique or Gorgeousness Home to see what we mean.
A standout for any Bathurst itinerary is Machattie Park, encased in a block right in the heart of Bathurst on Keppel and William Streets, with traditional town square garden features like a band rotunda, cast iron fountains, duck pond, fernery and more. Flanked by giant deciduous trees that give the park a distinct feel and vista through every glorious season.
Download the Bathurst Step Beyond App to take a self guided audio tour on your Smartphone and delve further into the park's history and its stunning features. Likewise can be said of the adjacent Kings Parade, with the Bathurst War Memorial Carillon standing proudly in all its Deco glory at the centre. One of Bathurst's defining landmarks, listen for its chiming bells every quarter hour, with a full length tune played out at 12 pm and 1 pm each day.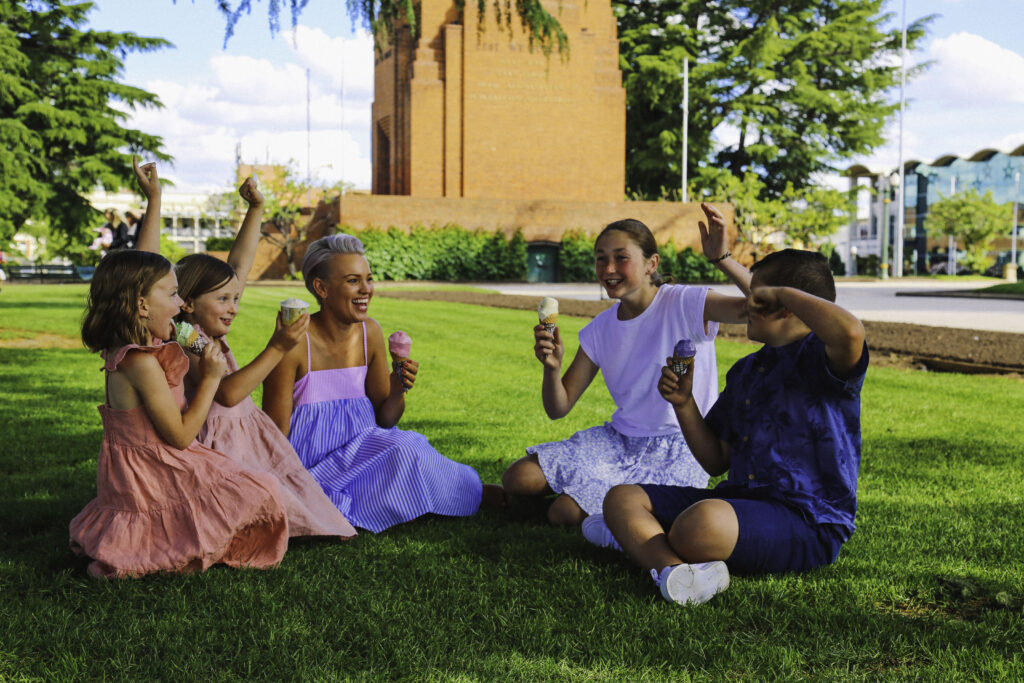 Sunday
Visit the museums and galleries in Bathurst's CBD precinct. We recommend starting at The Australian Fossil and Mineral Museum. This fascinating display of over 10,000 artefacts is the private collection of Warren Somerville, donated to the Australian Museum and now displayed in Bathurst's former Public School House c. 1876.
Then explore Bathurst's history as a regional visual art hub at Bathurst Regional Art Gallery with ties back to the gold rush era of the 1830s. Bathurst Regional Art Gallery displays rotating exhibitions of visual art from local, national and international artists year round, and is free to enter.
Finish on Havannah Street at Bathurst Rail Museum, which is only fitting because you have travelled on the Main Western Line to get here. The museum depicts the social history that the construction of the Main Western Line brought to Bathurst, with a HO scale model railway that was entirely volunteer built and has incredible detail including historically accurate stations, tunnels and bridges that still exist along the real life line today.
Monday
Depart back to Sydney's Central Station on the 7:35 am service from Bathurst and you will be home in time for lunch. Again, no booking is required for this service, simply tap on with your Opal Card and take in the rolling plains of the Central West while you upload and share pics of your wonderful Bathurst escape, tagging @visitbathurst on Insta for extra street cred.
To plan your trip, visit the Transport NSW Trip Planner and enter your starting location, destination and the approximate dates and times you want to travel for all the flexible public transport options to Bathurst each day. This itinerary includes the direct train service, but there are train services that connect with a coach at Lithgow for more options. You can also use the trip planner for the Bathurst local bus services.
Contact the Bathurst Visitor Information Centre to chat with a friendly local about visiting Bathurst by public transport. We can provide maps, walking and cycling tours, itinerary suggestions and more. We're open 7 days from 9:30 am to 4:30 pm at 1 Kendall Avenue, Bathurst. Or call 02 6332 1444.