For the inside scoop on what to see and do in the Bathurst region just ask a local. 
Whether you're after the best coffee spot in town, a place that caters to vegan diets, or the hottest events to plan your trip around, we've got you covered with these top picks from some passionate locals. And don't forget to ask the Bathurst Visitor Information Centre, the staff at 'BVIC' are all locals who really know the best of the region! 
The Australian Fossil & Mineral Museum
My guests are always impressed and amazed that a country town has such an impressive museum, something that suits both kids and adults! Learning and fun combined.
Eating Out
So many places – The Hub, the delightful leafy courtyard with delicious food for lunch, a favourite of ours is The Railway Hotel Bistro for a quick, honest, good value country pub meal.
Abercrombie Caves
A total escape from the business of living – Bushranger Country! Have fun on the self-guided tour and the swinging bridge. Delightful picnic areas and exciting caves.
See and Do
Riding my motorbike around the Bathurst region from Sofala, Hill End, O'Connell and of course Rockley. There is just something really special about riding on these open country roads.
Eating Out
You can't go past a great steak at the restaurant Dogwood BX. Chef Evan has really created something special with his American-style dished right in the heart of Bathurst.
Favourite Places
Our family farm in the region is my happy place and I feel at home whenever I am out there. Although I live in the city, my heart still very much lies in the country.
I can't wait to be spending more time in the region with my new project, The Rockley Pub. I'm really hoping to create something special and reinvigorate life in the small and beautiful town of Rockley.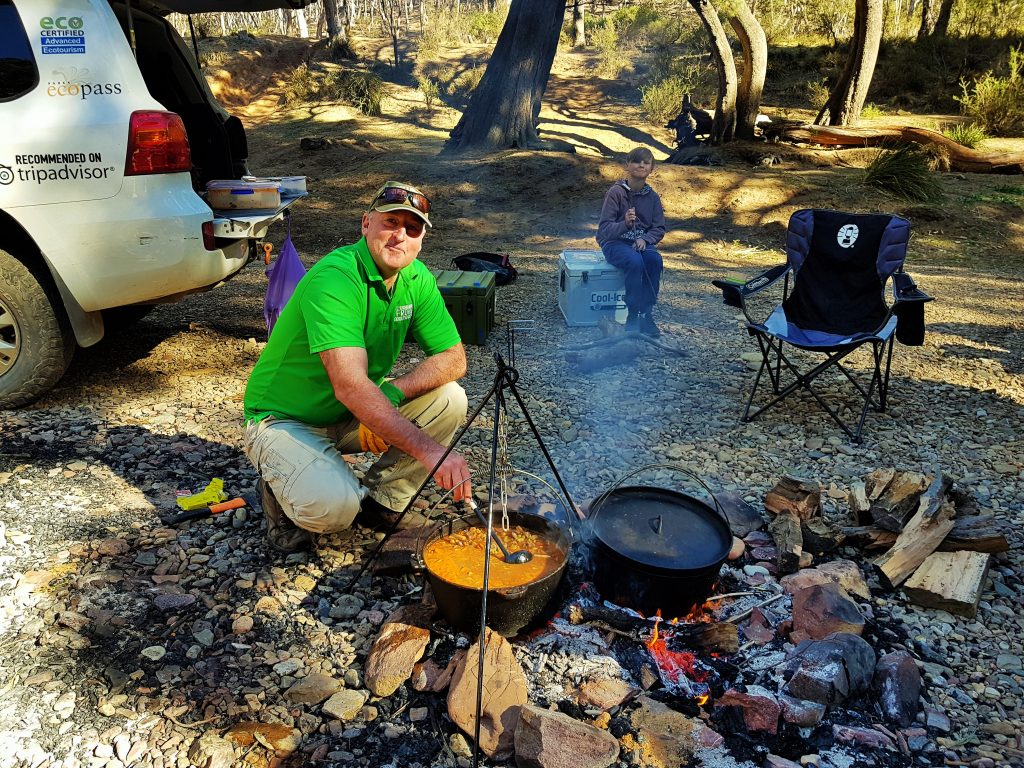 Machattie Park
This lovely place is really the jewel of Bathurst. The Victorian park features stunning gardens and historic landmarks – a bandstand, the Caretakers Cottage, Crago Fountain, Fernery, Lake Spencer and the Munro Drinking Fountain – all in the heart of the city.
Hill End
If you're visiting the Bathurst region, it's well worth the drive to visit the historic townships of Sofala and Hill End. These townships let you travel back in time and learn how our pioneers survived in the colonial days – some finding their fortune in gold.
Country Coffee
Want some real country hospitality? This is a long established coffee shop and cafe located in George Street opposite beautiful Machattie Park. Great coffee, quality homely meals and friendly service.
Simmo's Offroad Tours
This experience offers you the chance to get off the highway and explore the rugged Bathurst region by 4WD with me, your knowledgeable local guide. Visit the historic townships of Hill End and Sofala, learn how to pan for gold or fish for trout and enjoy a BBQ lunch by the tranquil Turon River.
Abercrombie House
This grand old home, built in the 1870s, represents the finer side of Bathurst and shows an example of the early wealth the town had to offer – we weren't just mud huts and bark buildings but held our own with the upper class.
Bathurst Visitor Information Centre
This is a must first port of call for any visitor to the Bathurst region. It's open seven days a week and even has an original Cobb & Co coach on display. It's the best way to get a feel for the place and get some tips on where to go.
Detour Adventures
This guided 4WD tour around Bathurst is terrific fun, and it helps visitors to appreciate the many hidden wonders of the region. You can choose from a range of exciting 4WD off-road tours, tag-a-long tours, scenic drives, wine tasting tours or create your own private tour.
Hill End Tours
For small family groups or bus groups visiting Hill End, they give you a personalised hands on service offering gold panning tours, town tours, goldfield tours, cemetery tours and even a night time ghost tour if you're brave. 
See and Do
The scenic drive from Bathurst to the many surrounding towns and villages. Short trips to Millthorpe, Hill End, Oberon, and Carcoar on a lazy day are the best.
Great local coffee
Anyone who knows me, knows that I am always on the hunt for my next coffee and I visit a number of local coffee places DAILY. My favourites are Doppio, Moubar, Al Dente (all dog friendly) and The Hub.
Art and Culture
Watching local musicians and performers (including gigs at The Victoria). I get a real buzz from playing a role in the local music scene & am blown away from the amount of talent we have in our region.

Bathurst Regional Art Gallery. A proudly contemporary regional gallery.

The Bathurst Winter Festival.
See and Do
The Inland Sea of Sound Festival offers such a warm, welcoming vibe. With great food, activities and visuals and brilliant artists. Performing there myself is still amongst my fondest memories.
Best coffee
The team at The Brew Drive Thru are quite simply the highlight of my day. Convenient and delicious coffee and absolutely wonderful staff. I started going there so much that they draw personalised pictures or messages on my cup for me.
There's always something really enjoyable to see at the Bathurst Memorial Entertainment Centre. with a plethora of shows and performances ofered throughout the year, your sure to catch one you love!