Foraging in the Bathurst Region
Foraging in the Bathurst Region
In the Central West there are plenty of State Forests where visitors can enjoy various self guided activities including camping, bush walking and fossicking. However did you know that you can also go mushroom foraging during Autumn? 
Much of the state forests are used as sustainable pine plantation lots, which are also home to wild gourmet mushrooms. From late Summer to early Winter the pine plantations can be home to Saffron Milk Caps and Slippery jack mushrooms which are considered gourmet delicacies. In the Bathurst Area the best place to go foraging for mushrooms is in Sunny Corner State Forest just 20 minutes from Bathurst. However, there are also some great spots in the surrounding LGAs of Oberon and Orange. 
While the information on this page is a great start to foraging, it is not a complete guide and should not be your only reference when foraging. It is up to you to make sure you are picking safe mushrooms. Some mushrooms are extremely poisonous and can cause serious injury or death, if you become unwell after eating wild mushrooms call the Poison Centre on 13 11 26. For the best first time experience book in a tour with a local professional Simmo's Offroad Tours can organise mushroom foraging tours in and around the Bathurst region. 
Before you go you will need a few things:
Something to collect your finds. A small Basket or Box is great.
Something to cut the stem of the mushrooms. A pocket knife or utility tool is enough.
Some walking shoes and a camera. Getting out and about in nature is a great way to experience the Bathurst region. Be ready to explore and create some new memories of your adventures!
How to Find a Spot
Take a trip out to a state forest that is used for pine production. In the case of Bathurst around Sunny Corner and Yetholm are the best areas. Be sure to only enter State Forests through access roads that are not closed for logging activities (these road closures are usually well signed at the road entrance. Please respect all on site signage when in State Forests.)
When looking for a spot to hunt for mushrooms try to find a spot where the trees are relatively older, with wider trunks and taller tops. This helps as mushrooms need a deep forest bed of pine needles to form the right conditions to grow. By choosing areas with older trees you have a better chance of being in the right place, and it is easier to walk through the forest without low hanging branches. 
When choosing a spot make sure you find a safe spot to park off of the road so that you do not obstruct the road for anyone else travelling through the forest. 
How to Find Mushrooms
If you are lucky enough to be foraging at the right time of year, with the right weather conditions, you will be greeted with abundance and easily be able to find gourmet mushrooms in local state forests. 
However during most of the foraging season you will need a sharp eye and be happy to wander the forest for a little while. 
Keep an eye out for small mounds of pine needles, take a small stick and gently brush off the top, to see if the mound is actually a mushroom pushing up through the pines. Finding mushrooms can take some time a patience, make the most of your time in the forest by simply enjoying the walk. 
How to Harvest
When you find a mushroom double check that it is one of the two mentioned below. Go through the list of identifying features and make sure that it matches exactly. 
Then gently cut the stem of the mushroom with your knife. Cutting the mushroom is preferable to pulling it out of the ground, as it is easier on the mycelium which is like the root system of mushrooms. Additionally it helps keep your mushrooms clean by minimising the amount of dirt and debris you take. Place it in your basket or box and keep up the hunt, when you find one there are often others close by. 
Only pick what you can eat in one meal or preserve within 24 hours. For most people this is only 3-5 small/medium mushrooms, or 1/2 big mushrooms. Wild mushrooms have a short shelf life and will heavily bruise/decay over 24 hours if not properly stored. To store wild mushrooms wrap them in paper towel and seal in a container before refrigerating, this will preserve them fresh for the longest possible time. To not waste mushrooms and to make sure there are enough mushrooms to support a healthy forest ecosystem, it is advisable to only take what you can eat in two days.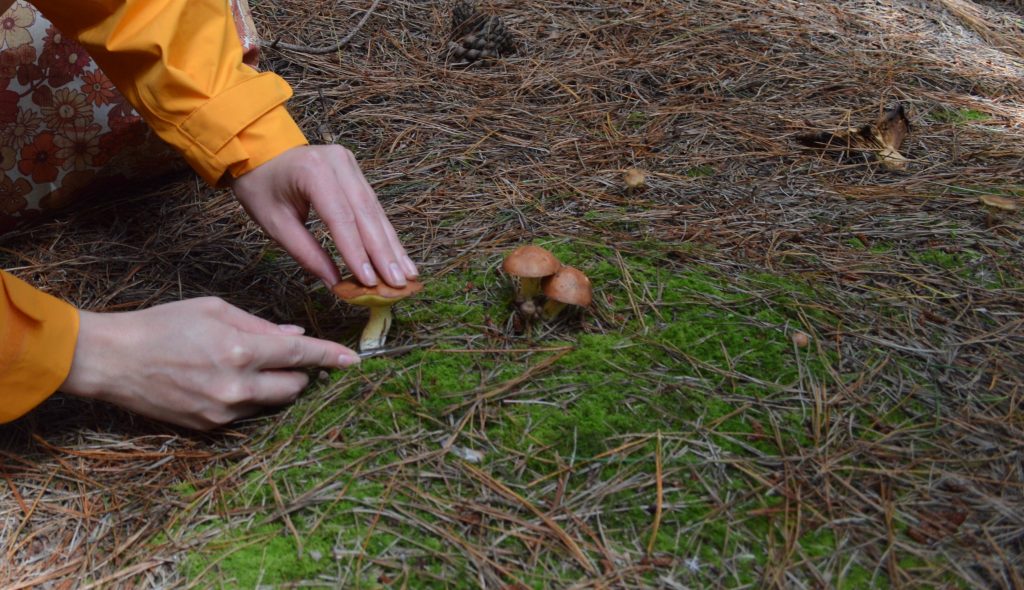 How to Identify Mushrooms
There are many different types of mushroom that grow in NSW and many of them are not edible. Some are even quite poisonous and can lead to sickness or serious injury. As such we advise only picking the two mushrooms below, it is important that you correctly identify the mushrooms you are picking. If you are not 100% sure that you have the right mushroom it is better to not pick it. When in doubt go without. Additionally if there is significant bruising or any evidence of rotting, it is best not to pick the mushroom.
Identification:
Colour: Orange
Cap: Button shaped when young, funnel or trumpet shaped when mature. Can grow up to 15 cm in diameter. 
Stalk: Thick hollow stalk, light in colour with orange spots. Will bleed a milky orange sap when cut. No veil.
Gills: Thin orange membrane radiating from the stem.
Bruising: Bruises a greenish-blue
Preparation: Gently wipe with wet cloth off before cooking. Sliced whole, fry with herbs & oil/butter.
Identification:
Colour: Brown
Cap: Button shaped brown cap. Can be slimy/sticky on the top of the cap, especially after rain. Can grow to 15 cm in diameter. 
Stalk: Smooth stem, with a veil. (rough stem without veil is a close cousin to the Slippery Jack and still edible)
Gills: Porous sponge like underside. When young has a creamy yellow colour, when mature has a golden yellow colour.
Bruising: Bruising not easy to see.
Preparation: Peal the top of the cap, gently wipe off forest debris from stem with a wet cloth. Slippery Jacks are also enjoyed by many insects, cut in half to make sure none are in the stem. Slice to preference and cook with herbs and oil/butter.
While all care has been made to provide accurate information, the information provided on this page may not be enough for a novice forager to accurately identify mushrooms 100% of the time. It is up to you to make sure that you are accurately identifying the mushrooms you pick. It can not be stressed enough that you should only eat mushrooms you are 100% sure of. Remember "When in doubt, go without!"